Curcio Giuseppe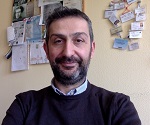 Phone:
+39 0862 433407
Fax:
0862 432236
E-mail:
giuseppe.curcio(at)univaq.it
Address:
Piazzale Salvatore Tommasi 1, Blocco 11B Stanza I 2.8 (I piano)
Professional Position:
Associate Professor
Academic Discipline:
M-PSI/01 (General Psychology)
Research Activities:
Cognitive and behavioral assessment; Cognitive and emotional effects of sleep loss; Cerebral and cognitive-behavioral effects of EMFs exposure; Circadian rhythms and cognition; Cognitive and emotional effects of normal and pathological ageing.

Cognitive and Behavioral Sciences Laboratory
labscoc.wordpress.com
Degree course:
[P3P] Applied Psychological Science
[P4P] Applied, Clinical and Health Psychology
[D4R] Health Professions of Technical Sciences (Diagnostic)
[D4F] Health Professions of Rehabilitation Sciences e
Teaching courses:
[P1P016] – Psicologia dei Processi Cognitivi [P0035] – Processi Cognitivi Superiori [DB0018] – [P1P016] – Cognitive Psychology
[P0035] – Higher Cognitive Processes
[DB0018] – Neuropsychology and Psychophysiology
[DM0050] – Psychology of Aging
[D4286] – General and Applied to Social Relation Psychology
[DB0055] – Psychiatric and Psychological Sciences
Student Office hours:
Monday 2.00-4.00 p.m.
N.B.: Given the current health situation, the students' reception will be held via the MS TEAMS platform upon request sent via email or via MS TEAMS messaging.