Iorio Roberto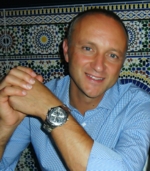 Phone:
+39 0862 433443
Fax:
+39 0862 433433
E-mail:
roberto.iorio(at)univaq.it
Address:
Via Vetoio (Coppito 2), 67100 Coppito (AQ)
Professional Position:
Assistant Professor
Academic Discipline:
Applied Biology (BIO/13)
Linee di ricerca:
Evaluation of the molecular mechanisms underlying energetic and oxidative stress responses induced by currently used azole fungicides on Mouse Sertoli TM4 cells.
Evaluation of cytoprotective and immunomodulation activity of non-viable paraprobiotic Lactobacillus sakei on human conjunctival and corneal cells treated with inflammatory inducers like preservatives or drugs used for the treatment of glaucoma.


Degree course:
Cellular and Molecular Biotechnology [LM 9]
Sport Sciences and Physical Education [LM68]

Teaching courses:
2007 – 2019, Course of Biology, Chemistry and Biochemistry - E0472
2019 – Molecular Mechanisms and Biomarkers in the Cellular Response to Stress - B0495
2020 – Molecular and Cellular Adaptations (Course of Cellular, Morphological and Physiological Adaptations in High Performance - E0488)

Student Office hours:
Monday – from 10:00 a.m. to 12:00 p.m.