Masedu Francesco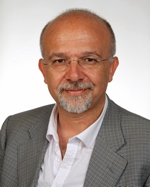 Phone:
+39 0862433736
Fax:
+39 0862432236
E-mail:
francesco.masedu(at)univaq.it
Address:
Via Vetoio. Coppito 2 - Edificio "C. De Meis" 67100 (L'Aquila)
Professional Position:
Associate Professor
Academic Discipline:
Medical Statistics
Research Activities:
Longitudinal Studies Methods, Epidemiological Study Design, Risk model and risk assessment, Clinical Trials, Observational Studies, Meta-analysis
Degree course:
- Biotechnologies [B3B]
- Medical Biotechnology [B4M]
- Cellular and Molecular Biotechnology [B4C]
- Human Movement and Sport Sciences [E3M]
- Sports Science [E4A]
Teaching courses:
- Biostatistics [DB0053]
- Biomedical Statistics [E0550]
- Epidemiology [B0394]
- Epidemiology [B0411]
- Research Methodology Applied to Training [E0495
Student Office hours:
Wednesday, 15:00 - 16:00. It is possible to arrange an appointment by e-mail.