Pontieri Eugenio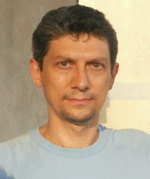 Phone:
+39 862 433540
Fax:
+39 862 433523
E-mail:
eugenio.pontieri(at)univaq.it
Address:
Street Vetoio – 67100 Coppito (AQ)
"Angelo Camillo De Meis" building- COPPITO 2 – 1st Floor – Corridor A – Room 61.
Professional Position:
Confirmed Researcher (Assistant Professor)
Academic Discipline:
MED/07 Microbiologia e Microbiologia Clinica
Research Activities:
- Characterization of antimicrobial properties of Lactic Acid Bacteria (LAB) and their use as probiotics in food and clinical fields
- Chromogenic media and molecular methods (PFGE, RAPD, MLST) in Bacterial e Fungal Diagnostic
- Molecular Analysis of Antibiotic Resistance
- Analysis and Identification of Microorganisms in Food and Water matrices
- Microbiology Laboratory

Degree course:
- Second cycle degree Medicine and Surgery [D4M]
- Second cycle degree Medical Biotechnology [B4M].
- Specialization School Hygiene and Preventive Medicine

Teaching courses:
-unit Pathology Immunology/immunopathology and General Microbiology [D3372]: module General Microbiology [D0390]
- Unit Diagnostic Microbiology and Methods in Epidemiology [B0392] module Diagnostic Microbiology [B0393]
- Microbiology and Clinical Microbiology in S.S. Hygiene and Preventive Medicine

Student Office hours:
The lecturer is available to receive students on Mon-Thu h10:30-12:00 by telephone or univaq e-mail appointment.