Sferra Roberta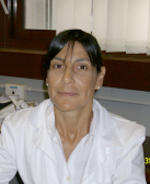 Phone:
+39 0862 433504 / +39 0862 33574
Fax:
+39 0862 433523
E-mail:
roberta.sferra(at)univaq.it
Address:
Via Vetoio – Coppito 2 – Building Camillo De Meis
Professional Position:
Associate Professor
Academic Discipline:
Human Anatomy (BIO/16)
Research Activities:
1. Structural, ultrastructural and immunohistochemical features of intestinal tract under normal and pathological conditions both in experimental models and human samples.
Main findings:
1.1. demonstration of the key role of TGFβ/Smads pathway in the onset and in the development of intestinal fibrosis that occurs in human Inflammatory Bowel Disease and in experimental models of colitis (TNBS and Dextran Sulphate Sodium); demonstration of anti-inflammatory and antifibrotic action of molecules able to interfear with TGFβ/Smads signalling to develop therapeutic approaches.
1.2. Morphological and metabolic alterations occurring in intestinal wall and in liver parenchyma (NAFLD/NASH) in experimental model of metabolic syndrome diet- induced as well as in human and experimental liver diseases

2. Morphological and immunohistochemical studies demonstrating:
2.1. The role of TGFβ/Smads and AGE/RAGE/MAPK pathways in the changes occurring in muscularis propria of anterior vaginal wall in women with Pelvic Organ Prolapse.
2.2. The identification of the molecular mechanisms implicated in the progression of human and experimental high grade gliomas with regard to epimutations of different Histone Deacetylases (HDACs).


Degree course:
D4M - Medicine and Surgery
D4N - Dentistry and Dental Prosthesis (Coordinator)
D3F – Physioterapy (Coordinator)
D3P – Psychiatric Rehabilitation Technique (Coordinator)
D3N – Neuro and Psychomotor Therapy of the Evolutionary Age (Coordinator)
D30 - Orthoptics (Coordinator)
E4A - Science and Sports Technique
E3M - Motory Sciences

Teaching courses:
DM0169 – Laboratory of Clinical Anatomy
D4887 – Applied Anatomy II
D3392 – Micro and Macro Anatomy
D3394 – Stomatognatic Apparatus
D0562 – Human Anatomy
DM0470 – Anatomy and Physiopathology
D4588 – Elements of Anatomy Physiology
DM0473 – Fundamentals of Anatomy, Pathophysiology, General Pathology and Genetic
E0491 – Functional kinetic anatomy
E0222 – Topographic Anatomy and Functional

Student Office hours:
Every day. The timetable will be agreed by e-mail.